Building a New Home?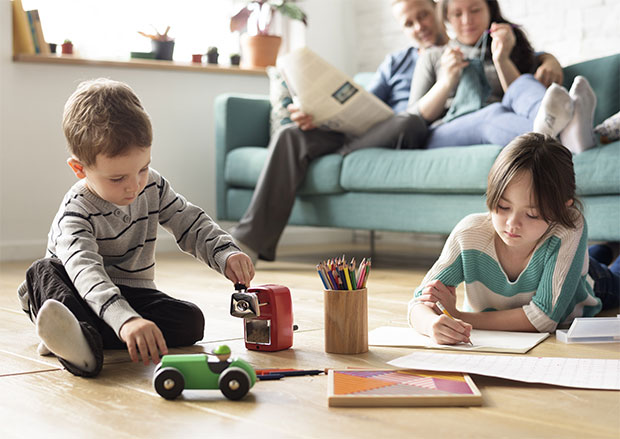 When making a decision which builder is going to build your new home, you have a right to know what termite control the builder plans to use in your home. You also have a right to choose the type of termite control to protect your home, you may prefer. Remember, that just like the concrete footings and the concrete floor, the chosen termite control system is a life-of-home decision. Do your footings and slab contain pesticides? No! Nor does TermShield.
Owner Builder?
Find your local authorised operator
Termites
Did you know that the queen of a termite colony can live for up to 50 years and that a colony can forage for its required nutrients – cellulose from timber and its by products (i.e. paper on Gyprock) and moisture from up to 150 metres and a mature colony can be up to 2-5 million termites. Source CSIRO.
Termite control in your new home is your choice. If building a new project home, ask your builder whether they are planning to use a pesticide-based treatment or installing pesticide-free TermShield. If they are not planning to install TermShield, just like choosing upgraded tiles, appliances, etc. ask your builder to get a quote from TermShield or you can contact us direct and we will approach the builder for you.
You may be able to offset the cost of TermShield with the standard treatment your builder is offering!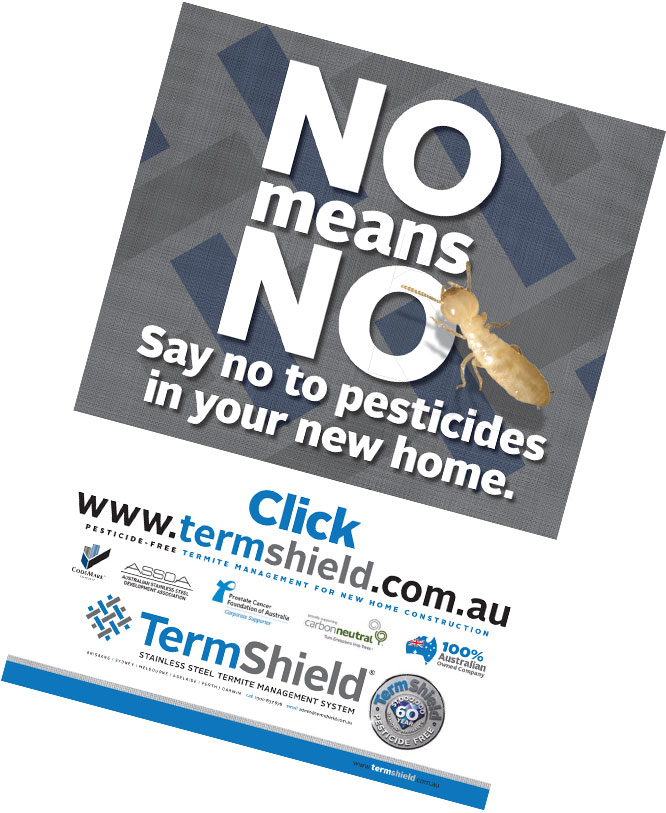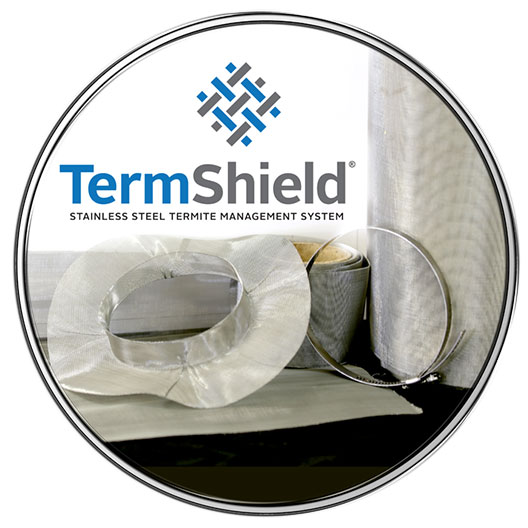 How we Install TermShield
We install an efficient termite control system to stop concealed ingress by subterranean termites. It is important to understand that termites live in underground nests and this is why homes are attacked from beneath the ground.
Areas that are most vulnerable are around any pipework / service entry points extending through the concrete slab. TermShield collars are installed to pipes and service entry points prior to the concrete slab being poured.
When the concrete slab is poured around the pipes and service entry points, the TermShield collar engages into the concrete, closing off the shrinkage gap around the pipe. Cavity walls are also vulnerable , these are closed off to termite ingress by installing TermShield to the cavity wall perimeter and sealing TermShield to the concrete slab with our own TermShield parge (a highly specialised concrete-based adhesive) and thus sealing the cavity to concealed termite entry.
TermShield Installation Accreditation
We carry out training of our installers to the highest of standards to meet our specifications. TermShield can only be installed by company accredited installers.
60 Year Diamond Warranty, an Industry First!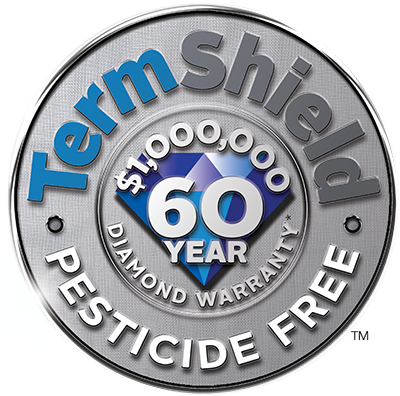 Terms & Conditions apply, click here for more information on our warranty.
Codemark Approved
TermShield is CodeMark Certified. The CodeMark Scheme created by the Department of Industry Innovation and Science, supports the use of new and innovative building products by providing a nationally and internationally accepted process for products to be assessed for compliance with the requirements of the building codes of Australia and New Zealand. The scheme provides confidence and certainty to regulatory authorities and the market through the issue of a Certificate of Conformity.